14 February 2022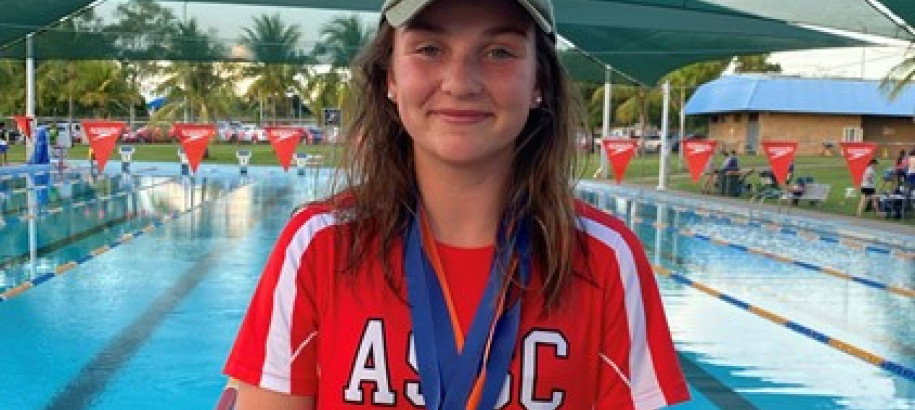 Swimming Northern Territory is proud to have Lilly Bloomer, from the Alice Springs Swimming Club as Meet Ambassador.
We asked Lilly if she would be happy to share a little bit about herself and here it is. 
• What are your favourite hobbies?
Besides competitive swimming, I really enjoy water skiing and camping with the family. I also love being the drummer in my band with my best mates.

• When did you first start swimming?
I've been swimming since I was 9, I remember being in learn to swim and watching the squad train in the big pool and thinking that's where I want to be.

• What is your favourite swimming memory?
My favourite memory is pretty recent. It was the State Team training camp with the FNQ swimming club, experiencing training with a different club and different environment and enjoying every part of it. I met the one and only Grant Patterson (Scooter), talked to well-known coaches, went on adventures and got to know the NT team really well which was the best part.

• What is your favourite stroke and distance?
I absolutely love the 50m breaststroke and the 200m breaststroke

• What is it like swimming with the Alice Springs swim Team?
I love my squad, we're a positive and uplifting team that looks out for each other. We took a hit this year and lost 8 competitive swimmers and our coach (all of us have all been swimming together for the last 4 years), so it's even more important we come together and help each other through those hard sets in training.

• What are your future goals?
Swimming is a great sport and I hope to build on my skills and dedication to this sport. I hope to experience more competitions around Australia, and try to go as far as I can to be the best I can be. 

We wish Lilly all the best at the upcoming NT Open and Age Championships and in her future swimming.