01 October 2021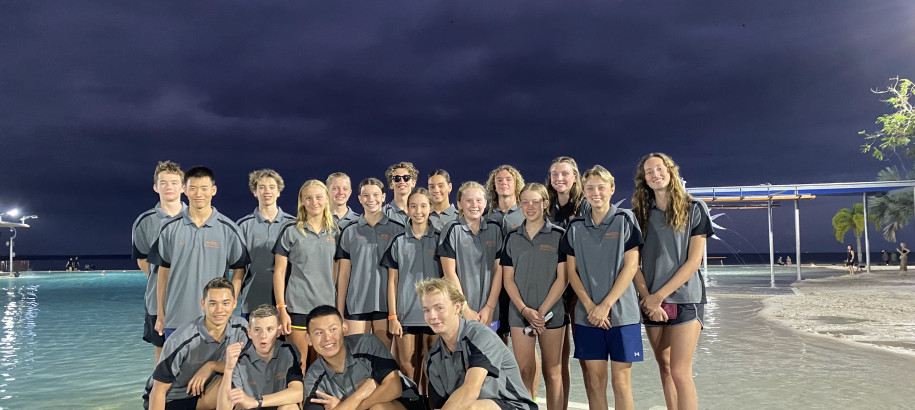 The 2021 State Team enjoyed a 5 days in Cairns QLD. Prodominately training with the Cairns Stingrays Swimming Club. Swimmers have been participating in pool, gym and information sessions. On Thursday swimmers enjoyed a short hike to Crystal Cascades in the morning and some down time before training at the Tobruk Swimming Pool in Cairns with our NT Coaches. One of the highlights of the trip was our NT swimmers meeting and chatting to  Paralympian Grant Patterson (Scooter). Scooter has many achievements in and and out of the pool but has said that his greatest achievement to date was winning Silver and Bronze medals at the Tokyo Paralympics. This was the first social outing Scooter has had since returning from Tokyo, Thank you Scooter you for inspring our team.
Friday, swimmers enjoyed a training session in the morning with Cairns Stingrays, with down time that followed. That evening the team competed in a FNQ vs NT duel meet. With an emphasis on fun and inclusion, every swimmer who attened had the oppportunity to participate in the regions relays, an 8x50 Free and 8x50 Medley. The program also included a range of other events that swimmers participated in. At the conculsion of the meet FNQ put on a 100m Freestyle Dash for Cash, Special congratulations to Harrison Knott who came 2nd in the boys Dash for Cash and Chloe Reader who came 1st in the girls Dash for Cash! The last awards were the coaches awards, given to the male and female swimmers who put in 100% at the meet, congratulations Hayley Messenger and Andrew Materazzo. Swimming NT thanks FNQ for providing our swimmers with the opportunity to take part in such a fun meet.
Saturday swimmers particpated in there final training session with the Cairns Stingrays which included morning swim and yoga! Saturday afternoon NT swimmers participated in a Q&A session with olympic coaches, Micheal Bohl and Vince Raleigh. The session allowed NT swimmers the opportunity to chat and ask questions to current olympic coaches. After the session NT swimmers walk away inspired and had something they each could work on to enhance there on training. Thank you Micheal & Vince.
Swimming NT along with the State Team would like to thank Head Coach Sander Ganzevles from Carins Stingrays Swimming Club, Far North Queensland Swimming, Grant Paterson, Herbie Howard and World Wide Swim Clinics (Micheal & Vince) for inspiring our NT athletes and providing them with the opportunites and tools to take there swimming to the next level. We cannot wait to catch up with our friends from FNQ in the future.