30 September 2021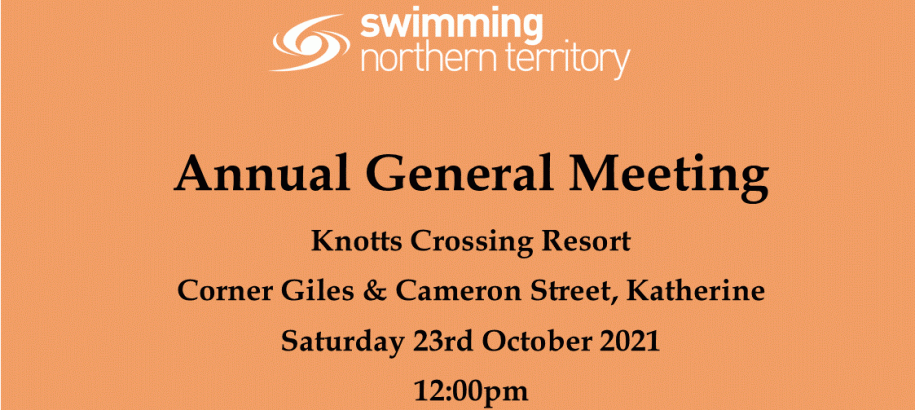 Swimming Northern Territory Incorporated
Agenda and Notice of Business of Annual General Meeting
Swimming Northern Territory Incorporated would like to invite members of Swimming Northern Territory to the Annual General Meeting to be held on Saturday 23 October, 12pm at Knotts Crossing Resort, Cnr Giles & Cameron Street, Katherine. 
---
GENERAL
1.  Apologies
2.  Roll Call of Delegates
3.  Confirmation of previous minutes
ORDINARY BUSINESS
4.  Accounts and Reports
Adoption of SNTI Budget

Annual membership fee

To receive and consider the annual accounts and the reports of the Board and the auditors report for the year ending 30 June 2021
5.  Independent President's Report
     Garry Lambert to present the President's Report
6.  Executive Officer's Report
     The Executive Officer to present the Executive Officers Report
7.  Annual Report
     The Executive Officer to present the Annual Report
8.  Election of Office Bearers
     Consideration of and election of directors to those positions currently vacant
     4 Positions Vacant 
     2 years remaining
9.  Any other matters
Appointment of Auditor for the following year
NOTES:
Nominations for Board of Directors:
Nominations for vacant Director positions must be writing and submitted to the Executive Officer at least 7 days prior to the AGM.
If nominations exceed positions a ballot is held (s33)
If nominations are less than positions, then they are auto appointed (s38.1)
Nominations can be called from the floor after all written nominations a position is vacant (s38.1)
Eligibility of members to stand is set out in s37
Nominations to be submitted to the Executive Officer by email by 5.00pm Friday 15 October 2021
Who may vote:
Delegates of clubs attending and voting at the AGM must be identified to SNTI at least 7 days prior to the AGM otherwise the President is presumed to be the Delegate.  If there is no President and no notice, there will be no voting rights.
Delegate and Proxy Forms to be submitted to the Executive Officer by email  nt.eo@swimming.org.au by 5.00pm Friday 15 October 2021
REFERENCES
Swimming Northern Territory Constitution